Why you'd want to own Rainforest Trees & Shrubs
Another rainforest guide book you need in your backpack and library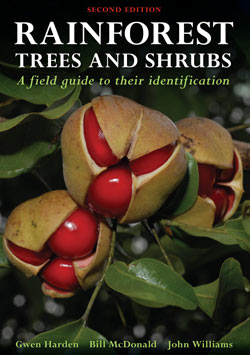 Rainforest Trees and Shrubs is a "must have" guide book for amateur and professional biologists and naturalists who need to know about, or are interested in, the rainforest trees and shrubs that are endemic (native) to mainland sub-tropical Australia.
This Australian rainforest reference resource will be widely used by professional and amateur botanists and ecologists, entomologists, environmental consultants and planners, architects, horticulturalists and landscape designers, students, school teachers and university lecturers and by rainforest enthusiasts and gardeners.
The rainforest guide will enable many, who until now have been confused and overwhelmed by 'all the green leaves' to identify and recognize species that grow in their local rainforests. The introduction outlines the basic leaf characters that are used in the identification of the species and diagrammatically illustrates and compares the various rainforest types that occur in the area.
A few enthusiastic comments from recent purchasers
"It's wonderful – it reeks of experience in teaching, observing and just wondering."

"A spectacular new book, packed full of detailed information."

"It looks stunning and will be a great resource for researchers interested in the rainforest trees and shrubs of eastern temperate Australia."

"The book is even better than anticipated. The previous edition has been my mainstay for identifying the rainforest plants in my garden and local area for many years."

"Another quality product from the Harden stable."

"Today I received the updated 'red book' I can guarantee it will end up with as many dirty finger prints as my earlier book."